Description
What is KOS 2?
KOS 2 is a dual channel coagulation system which offers various test panels to check the clotting of blood with different reagents and control plasma.
KOS 1 Test panel contains
| | |
| --- | --- |
| Reagent Kits | PT, APTT, TT, Fibrinogen, D-Dimer, Protein C, AT lll, Factors |
| Calibrators | Calibration Plasma, %PT/DIRECT INR |
| Control Plasma | Normal Control Plasma, Abnormal Control Plasma, D-Dimer Control – Low,D-Dimer Control – High |
Structure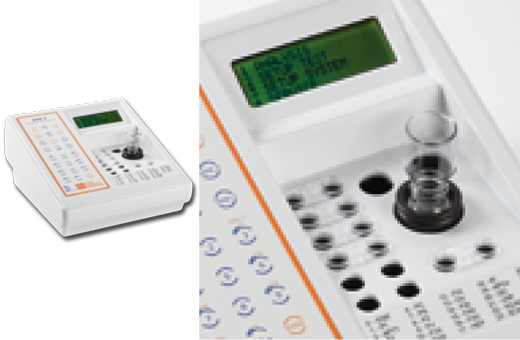 Advantage
Clotting, chromogenic or immuno-turbidimetric assays
5 points calibration curve for each test
Double determination
Magnetic stirrer for reagents
Easy operation
characteristics
| | |
| --- | --- |
| Dimensions | L x W x H: 205 x 150 x 75 mm |
| Weight | 0.72 kg |
| Power Supply | Input: 100-240 V~, 50/60 Hz, Power: 12 V |
| Temperature | 37,0 °C ±0,2 °C |
| Test Samples | 12 cuvettes |
| Reagent | 1 vial Ø 22,5 mm, 1 vial Ø 16,0 mm |
| Display | LED Display |
| Starting | Manual/Optical/Autopipette |
| Processing | 18 Bit ADC + Digital Filter |
| Optic | 2 channel with AutoSense |
Technical Features
2 channel fully optical measurement
Sunlight reduction
Clotting, chromogenic or immuno-turbidimetric assays
Quantitative D-Dimer
Micro volumes (total 75 μl)
Small dimension and weight
Easy operation
6 languages on board
Highly reliable & long-living
Autosense optics to eliminate interferences like Bilirubin,
Haemoglobin, sunlight
Approved clotting algorithm with biphasic waveform analysis
Automatic start at reagent addition
5 points calibration curve for each test
2 stop-watch function on-board
Double determination
Magnetic stirrer for reagent
Profile testing like PT+APTT
Optional external thermal printer
Optional automatic start pipette
RS 232 Interface
Linking to Laboratory Information System (L.I.S.)
Coagulation Reagents
SCLAVO PT REAGENT (LIQUID READY-TO-USE)
Each lot is supplied with I.S.I. values for each Sysmex model (CA500/1500/7000 e CS). I.S.I. values have been determined and certified by two reference laboratories according to WHO (WHO Expert Committee on Biological Standardization – WHO Technical report Series No.889,1999:64-85).
SCLAVO %PT/DIRECT INR KIT
A special set of plasmas has been developed in order to optimize the calibration phase of the Prothrombin time (PT). The kit contains 5 plasmas with assigned values and with a dual function to determine the calibration curve of PT to allow the calculation of local ISI value in accordance to CLSI (Clinical and Laboratory Standard Institute)'s official guidelines.
The combined use of Sclavo PT reagent – Sclavo %PT/Direct INR Kit system is a guarantee of a standardization quality for patient in OAT, improving inter-laboratory INR variation.
SCLAVO APTT S (LIQUID READY-TO-USE ) REAGENT (MAGNESIUM, ALUMINUM-SILICATE)
This product offers an optimum sensitivity to factor deficiencies (intrinsic pathway), lupus-like inhibitors and heparin.
SCLAVO D-DIMER KIT (LIQUID READY-TO-USE)
Our D-Dimer is an immunoturbidimetric assay that utilizes latex particles coated with a monoclonal antibody that reacts with fibrin D-dimer or fragment D of fibrin. The antibody has no cross-reactivity with fibrinogen. The method is extremely specific and rapid with a high Negative Predictive Value ( 98%).
SCLAVO ATIII KIT – CHROMOGENIC ASSAY
It is designed to give a linear standard curve for ATIII levels between 7,5 and 150%.
SCLAVO PROTEIN C KIT – CHROMOGENIC ASSAY
It is designed to give a linear standard curve for PC levels between 5 and 175%.
SCLAVO PROTEIN S KIT – CLOTTING ASSAY
It is designed to give a linear standard curve for PS levels between 10 and 130%