A fluorescence scanning instrument AFIAS is to be used in conjunction with various AFIAS tests which are based on antigen – antibody reaction and fluorescence technology (Fluorescence's Immuno-Assay).AFIAS -1 is a versatile desktop immuno-analyzer comes with LIS/HIS connectivity, all in one cartridge. It is LIS ready can connect with (LAN/WIFI).
Description
HOW DOES IT WORK?
AFIAS-1 (AFIAS-automated fluorescent immunoassay system) is an automatic immunoassay system that measures the concentration of a targeted analyte in a sample, using quantitative or semi-quantitative methods using blood, urine, and other samples. The AFIAS-1 reader is easy to carry and has a simple structure. Also, AFIAS-1 uses all-in-one cartridges which automates the entire procedures from sample preparation to test when user loads sample only.
Since AFIAS-1 uses a single channel, it is optimized for small and mid-sized hospitals (or clinics) testing up to 10 samples per hour. For some tests, such as TSH, CRP, PCT, and HbA1c, a quantitative test can be performed using a small sample (10uL or 50uL) of whole blood from a finger or heel using an applicable C-tip (capillary tip).
Stucture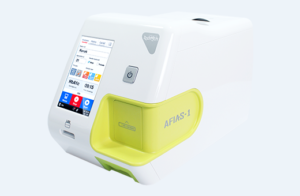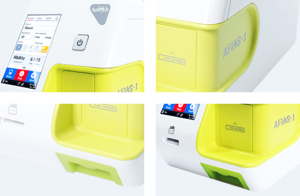 Advantage
Interface
Expansion of user interface through adoption of Android OS
Display
5 "touch panel provides operational stability and quick response
Data storage and update
Available to store and search large amount of test results
– Patient test results (5,000), Quality control (5,000), ID Chip (500), User ID (100)
Data back-up and OS update using SD card
Optical technology
Fluorescent optical module for high sensitive / semi-quantitative test available
Measurement modes
Single and multimode testing, QC (quality control), calibration and review (result saving) mode
Stability
Reduced risk of test error based on the equation saving function
Connectivity
Built-in printer, improved wired / wireless connectivity, LIS / HIS communication
USB hub chip supporting 4 USB ports
Convenience
Keyboard adaptable for non-touchpad user
Improved convenience to input sample ID and tester ID
Specifiations
Dimensions
320 mm (L) x 204 mm (W) x 180 mm (H)
Weight
3.9 kg
Power supply
100-240 V AC, 50-60 Hz, 1.5 A
Data output
5" touch color LCD
Communication ports
USB 4 ports, LAN port, RS-232
Temperature range for operation
15 ~ 35 °C
Temperature/humidity
Temperature -20 ~ 50°C, Humidity Max. 70%
Data output
LCD, built-in printer, RS-232 port
Test result storage
Patient test results (5,000) / System check results (100)
Standard material (control) test results (5,000)
Save of ID chip information
500 ID chips (Max. 5 LOTs per each item)
Throughput
Max. 10 tests per hour (different depending on item)
Tests Offered
Parameters
| Product class | Test items | Sample type | Working ranges |
| --- | --- | --- | --- |
| Cardiac | Tn-I Plus | WB/S/P | 0.01-15.00 ng/mL |
| Cardiac | CK-MB | WB/S/P | 3 - 100 ng/ml |
| Cardiac | D-Dimer | WB/P | 50 - 10,000 ng/ml |
| Cardiac | NT-proBNP | WB/S/P | 10 - 30,000 pg/mL |
| Cardiac | Myoglobin | WB/S/P | 2 - 500 ng/ml |
| Cancer | PSA | WB/S/P | 0.5 - 100.0 ng/ml |
| Cancer | AFP | WB/S/P | 5 - 350.0 ng/ml |
| Cancer | CEA | S/P | 1 - 500 ng/ml |
| Diabetes | HbA1c | WB | (NGSP) 4 - 15% |
| Diabetes | Microalbumin | Urine | 2 - 300 mg/L |
| Hormone | TSH | S/P | 0.09 - 80.00 pIU/mL |
| Hormone | TSH | WB | 0.4 - 80.0 pIU/mL |
| Hormone | T3 | S/P | 0.77 - 7.70 nmol/L |
| Hormone | T4 | S/P | 10.23 - 300.00 nmol/L |
| Hormone | FSH | S/P | 1 - 100 mIU/mL |
| Hormone | Total phCG | WB/S/P | 5 - 50,000 mIU/mL |
| Hormone | LH | S/P | 1 - 100 mIU/mL |
| Hormone | PRL | S/P | 1 - 10 ng/ml |
| Hormone | Testosterone | S/P | 1 - 10 ng/mL |
| Hormone | Cortisol | WB/S/P | 80 - 800 nmol/L |
| Infection | CRP | WB/S/P | 0.5 - 200.0 mg/L |
| Infection | PCT | WB/S/P | 0.1 - 100.0 ng/mL |
| Infection | PCT Plus | WB/S/P | 0.02 - 50.0 ng/mL |
| Infection | ROTO | Feces | qualitative |
| Infection | Rota/Adeno | Feces | qualitative |
| Infection | NORO | Feces | qualitative |
| Infection | HBsAg | WB/S/P | 0 - 300 COI |
| Infection | Anti-HBs | WB/S/P | 0 - 500 mIU/mL |
| Infection | Anti-HCV | WB/S/P | 0-300 COI |
| Infection | Dengue NS1 Ag | WB/S/P | qualitative |
| Infection | Dengue IgG/IgM | WB/S/P | qualitative |
| Infection | Zika IgG/IgM | WB/S/P | qualitative |
| Infection | HIV Ag/Ab | WB/S/P | qualitative |
| Others | Ferritin | S/P | 10 - 1,000 ng/mL |