Calprest has made it easier to analyze bowel inflammations with accurate and non-invasive method. It helps in differentiating inflammatory bowel disease and irritable bowel syndrome. Ability to give quantitative measurement of calprotectin which causes bowel inflammations helps the doctors to diagnose the patients for effectively and are easily able to differentiate between IBD and IBS.
Description
What is Calprotectin?
Calprotectin is a protein present in the neutrophils and can be found in stool with an elevated concentration in case of Inflammatory Bowel Disease (IBD), specifically Crohn's disease and Ulcerative Colitis. Calprotectin is stable in stool samples for several days at room temperature and much longer periods at -20°C. The fecal concentration of Calprotectin correlates with the histologic and endoscopic patterns of the intestinal inflammation in IBD patients.
Stucture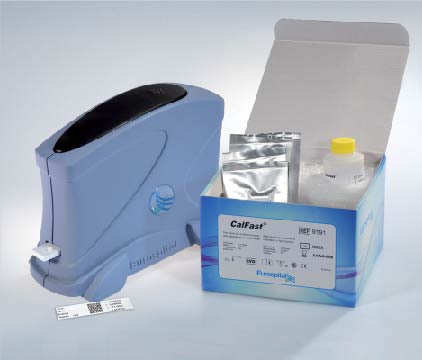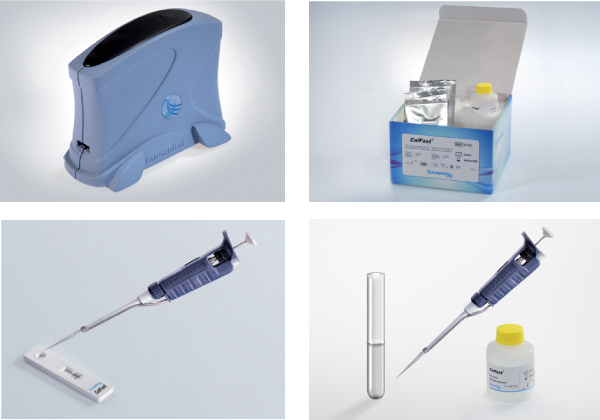 Advantage
CalFast Reader has its own internal memory save some standard parameters which are specific to its electronics.
CalFast is a Rapid, Reliable and Quantitative assay to differentiate patients with organic disease (IBD) from those with functional disease (IBS).
CalFast is a non-invasive screening test for reliable detection of the presence of an inflammation of the intestinal mucosa and can be used in the following conditions:
Differential diagnosis (IBD/IBS)
Follow up the disease (IBD) and treatment monitoring
Prediction of clinical relapses
Specifiations
| | |
| --- | --- |
| Dimensions | 153 mm x 201 mm x 95 mm |
| Weight | 800 grams |
| Power supply | 5V DC |
| Communication ports |  USB 2.0 ports |
| Temperature range for operation | 15 ~ 40 °C |
| Temperature/humidity | Temperature -20 ~ 70°C, Humidity Max. ≤ 70% |
| Data output | Web interface via USB Cable |