One of the latest addition in our wide range of products is Vet chroma which is a Point of Care Instrument introduced in the field of veterinary focusing on canine and feline. Its high accuracy and reproducibility along with simple testing methods gives quick and accurate results. It's simple and easy to use.
Description
Vet Chroma is a quantitative automatic in-vitro diagnostic device that measures the concentration of analytes, contained in serum and plasma. Compared to the first-generation device, it has an improved user interface and display and an advanced optical system, which provide the user with disease test options in the wide range.
The Vet Chroma was designed to improve data input efficiency and wireless communication connectivity through separately purchasable accessories and program update can be proceeded easily using SD card. In particular, the use of batteries improves portability, which is one of the biggest advantages of point-of-care testing (POCT) equipment and ensures reliable testing in unstable power environments.
Stucture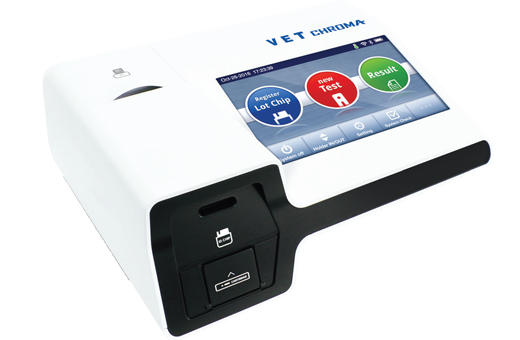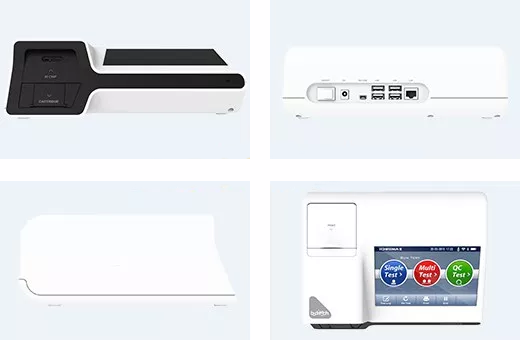 Specifiations
| | |
| --- | --- |
| Dimensions | 276 mm (L) x 220 mm (W) x 91 mm (H) |
| Weight | 1.3 kg |
| Motor Stepper | Linear Actuator (5V, 0.34A) |
| Power supply | DC 12V/5A, AC/DC Adaptor, (AA battery) DC 1.5V X 4ea. |
| Data output | 7-inch touch color LCD |
| Communication ports | USB 4 ports, LAN port, USB OTG port |
| Operation temperature/ humidity  range | 15 ~ 35 °C |
| Storage temperature/humidity range | 20 ~ 50°C, Humidity Max. 70% |
| Number of ID chip for storage | 500 ID chips (Max. 5 LOTs per each item) |
Tests Offered
Upcoming Parameters
Animal
Marker
Disease
Sample
Range
Canine
cTSH
Hormone
Serum/Plasma
0.1 - 5 ng/ml
Canine
Tnl
Cardiac function
Serum/Plasma
0 - 10 ng/ml
Canine
AFP
Cancer
Serum/Plasma
5 - 350 ng/ml
Canine
Fructose anime
Diabetes
Serum/Plasma
100 - 500 nmol/L
Canine
cHW
Infectious
Whole blood/Plasma
LOD : 50 pg/ml
Feline
fSAA
Inflammation
Serum/Plasma
5 - 150 ng/ml
Feline
FIV
Infectious
Whole blood
LOD : 10 pg/ml
Feline
FLV
Infectious
Whole blood
LOD : 10 pg/ml
Canine & Feline
cPL/fPL
pancreatitis
Serum/Plasma
50 - 600 ug/L (Canine)
1 - 6 ug/L (Feline)
Canine & Feline
NT-Pro BNP
Cardiac function
Serum/Plasma
300 - 2000 pmol/L (Canine)
50 - 400 pmol/L (Feline)