i Chroma- II is one of our fastest moving product which has been changing the way point of care instruments are seen. Small in size and its ability to carry out tests ranging over 50 parameters, has revolutionized the way POCT functions today. With its unmatched features this is becoming the choice of many Corporate Labs, Diagnostic Labs and Hospitals.
Description
HOW DOES IT WORK?
ichroma™ II is an automatic or semiautomatic in-vitro diagnostic device that measures the concentration of analytes, contained in blood, urine, or other samples, in quantitative or semi-quantitative ways. Compared to the first-generation device, ichroma™, ichroma™ II has an improved user interface and display and an advanced optical system, which provide the user with disease test options in wide range.
In addition, ichroma™ II was designed to improve data input efficiency and wireless communication connectivity through separately purchasable accessories and program update can be proceeded easily using SD card. In particular, the use of batteries improves portability, which is one of the biggest advantages of point-of-care testing (POCT) equipment, and ensures reliable testing in unstable power environments.
Stucture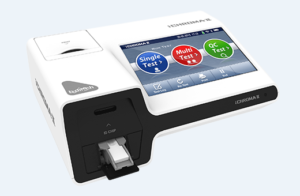 Advantage
Interface
Expansion of user interface through adoption of Android OS
Display
7 "touch panel provides operational stability and quick response
Portability
Battery for unexpected power failure or poor power environment for a certain period
Data storage and update
Available to store and search large amount of test results
Data back-up and OS update using SD card
Optical technology
Improved fluorescence optical module for high sensitive diagnosis
Measurement modes
Single, multi-mode, QC test and review (save results) mode
Stability
Reduced risk of test error based on the equation saving function
Connectivity
Built-in printer, improved wired / wireless connectivity, LIS / HIS communication
USB hub chip supporting 4 USB ports
Convenience
Keyboard adaptable for non-touchpad user
Improved convenience to input sample ID and tester ID
Specifiations
Dimensions
276 mm (L) x 220 mm (W) x 91 mm (H)
Weight
1.3 kg
Power supply
DC 12V/5A, AC/DC Adaptor, (AA battery) DC 1.5V X 4ea. Input 100-240V ~ 50/60Hz, 1.8A. Output DC 12V/5A
Data output
7" touch color LCD
Motor
Stepper Linear Actuator (5V, 0.34A)
Communication ports
USB 4 ports, LAN port, USB OTG port
Operation temperature/ humidity range
15 ~ 35 °C
Storage temperature/humidity range
Temperature -20 ~ 50°C, Humidity Max. 70%
Data output
LCD and built-in printer
Test result storage
Patient test results (1,000) / System check results (500)
Standard material (control) test results (1,000)
Tests Offered
Parameters
Downlad Parameters
Product class
Test items
Sample type
Working ranges
Cardiac
Tn-1
S/P
0.1 - 50.0 ng/ml
Cardiac
Tn-1 Plus
WB/S/P
0.01 - 15.00 ng/ml
Cardiac
CK-MB
WB/S/P
3 - 100 ng/ml
Cardiac
D-Dimer
WB/S/P
50 - 10,000 ng/ml
Cardiac
NT-proBNP
WB/S/P
10 - 30,000 pg/ml
Cardiac
Myoglobin
WB/S/P
5 - 500 ng/ml
Cardiac
hsCRP
WB/S/P
0.1 - 20.0 mg/L
Cardiac
Cardiac Triple
WB/S/P
Tn-I : 0.01 - 15.00 ng/ml
CK-MB : 3 - 100 ng/ml
Myoglobin : 5 - 500 ng/ml
Cancer
PSA
S/P
0.1 - 100.0 ng/ml
Cancer
PSA Plus
WB
0.5 - 100.0 ng/ml
Cancer
AFP
WB/S/P
5 - 350.0 ng/ml
Cancer
AFP Plus
WB/S/P
0.5 - 350.0 ng/ml
Cancer
CEA
S/P
1 - 500 ng/ml
Cancer
CEA Plus
WB/S/P
0.5 - 200.0 ng/ml
Cancer
iFOB
Feces
25 - 1,000 ng/ml
Diabetes
HbA1c
WB
(NGSP) 4 - 15%
Diabetes
Microalbumin
Urine
2 - 300 mg/L
Diabetes
Cystain C
S/P
0.1 - 7.5 mg/L
Hormone
TSH
S/P
0.1 - 100.0 μIU/mL
Hormone
TSH Plus
WB/S/P
0.1 - 50.0 μIU/mL
Hormone
T3
S/P
0.77 - 7.70 nmol/L
Hormone
T4
S/P
10.23 - 300.00 nmol/L
Hormone
FSH
S/P
1 - 100 mIU/mL
Hormone
FSH Plus
WB/S/P
0.1 - 110.0 mIU/mL
Hormone
Progesterone
S/P
4.45 - 127.20 nmol/L
Hormone
hCG
S/P
2 - 3,000 mIU/mL
Hormone
β-hCG
WB/S/P
5 - 50,000 mIU/mL
Hormone
β-hCG Plus
WB/S/P
2 - 5,000 mIU/mL
Hormone
LH
S/P
1 - 100 mIU/mL
Hormone
LH Plus
S/P
0.1 -100.0 mIU/mL
Hormone
PRL
S/P
1 - 10 ng/ml
Hormone
PRL Plus
WB/S/P
0.5 - 200 ng/mL
Hormone
Testosterone
S/P
1 - 10 ng/mL
Hormone
Cortisol
WB/S/P
80 - 800 nmol/L
Infection
CRP
WB/S/P
2.5 - 300.0 mg/L
Infection
PCT
WB/S/P
0.1 - 100.0 ng/mL
Infection
PCT Plus
WB/S/P
0.02 - 50.00 ng/mL
Infection
ASO
S/P
25 - 800 IU/mL
Infection
HBsAg
WB/S/P
0 - 300 COI
Infection
Anti-HBs
WB/S/P
0 - 500 mIU/mL
Infection
Anti-HCV
WB/S/P
0-300 COI
Infection
ROTO
Feces
qualitative
Infection
Rota/Adeno
Feces
qualitative
Infection
NORO
Feces
qualitative
Infection
Dengue NS1 Ag
WB/S/P
qualitative
Infection
Dengue IgG/IgM
WB/S/P
qualitative
Infection
Zika IgG/IgM
WB/S/P
qualitative
Infection
HIV Ag/Ab
WB/S/P
qualitative
Infection
Influenza A+B
Nasopharyngeal swap Nasal aspirates
qualitative
Infection
Strep A
Nasopharyngeal swap Nasal aspirates
4 x 103 cfu/test
Infection
Influenza/RSV
Nasopharyngeal swap Nasal aspirates
qualitative
Rheumatoid Arthritis
RF IgM
WB/S/P
5 - 200 IU/mL
Rheumatoid Arthritis
Anti-CCP
WB/S/P
5 - 200 U/mL
Iron metabolism
Ferritin
S/P
10 - 1,000 ng/mL
Iron metabolism
Ferritin Plus
WB/S/P
1.5 - 1,000 ng/mL
Bone metabolism
Vitamin D
S/P
8 - 70 ng/mL
Gastro
Calprotectin
Feces
10 -1.000 mg/kg
Gastro
iFOB/Calp. Combo
Feces
iFOB : 25 - 1,000 ng/mL
Calprotectin : 10 - 1,000 mg/kg
Infection
H. pylori SA
Feces
qualitative