Glycated Serum Protein (GlycoGap®)
Summary
Diazyme has developed a 2-part, liquid stable enzymatic test for quantitative determination of glycated serum protein (GSP, glycated albumin) in serum samples of patients. The Diazyme enzymatic GSP test kit (GlycoGap®) is used for short-term to medium-term monitoring of glycemic control for average blood glucose levels over the past 2-3 week period. Diazyme's GlycoGap® test can be run on most automated clinical chemistry analyzers. The enzymatic assay is more specific for glycated serum protein than the old NBT based fructosamine assay which is significantly interfered by endogenous reducing substances. The GlycoGap® test offers excellent analytical performance in precision, accuracy, linearity and stability. The GlycoGap® liquid stable test provides good correlations as compared to its previous lyophilized version of the GSP test. In 2010, The American Diabetes Association (ADA) Clinical Practice Recommendations recommend using HbA1c to diagnose and screen diabetes.
Test Principle
The enzymatic assay for glycated serum protein provides improved specificity and reliability compared to conventional NBT-based methods. The assay is highly precise with a total CV ≤ 1.3%. The assay offers extensive linearity up to 1354 μmol/L. The assay has no significant interference from: ascorbic acid (5 mg /dL); bilirubin (7.5 mg/dL); bilirubin conjugated (5 mg/dL); glucose (2400 mg/dL; hemoglobin (200 mg/dL); triglycerides (2000 mg/dL); and uric acid (35 mg/dL).
Glycated Serum Protein Assay uses proteinase K to digest GSP into low molecular weight glycated protein fragments (GPF), and uses Diazyme's specific fructosaminase™, a microorganism originated amadoriase to catalyze the oxidative degradation of Amadori product GPF to yield PF or amino acids, glucosone and H2O2. The H2O2 released is measured by a colorimetric Trinder end-point reaction. The absorbance at 546-600 nm is proportional to the concentration of glycated serum proteins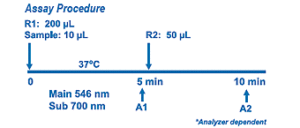 References
David B. Sacks et al. Gaps in the Glycation Gap hypothesis. Clinical Chemistry, 57:2, 150-152, 2011
Santiago Rodriguez-Segade et al. Progression of Nephropathy in Type 2 Diabetes: The Glycation Gap Is a Significant Predictor after Adjustment for Glycohemoglobin (HbA1c). Clinical Chemistry, 57-2, 264-271, 2011
Robert M. Cohen et al. Discordance Between HbA1c and Fructosamine, Evidence for a glycosylation gap and its relation to diabetic nephropathy. Daibetes Care, 26; 163-167, 2003
Barry I Freeman et al. Glycated Albumin and Risk of Death and Hospitalizations in Diabetic Dialysis Patients. Clinical Journal of American Society of Nephrology, 6; 1-9, 2011
TP Peacock et al. Comparison of glycated albumin and hemoglobin A1c levels in diabetic subjects on hemodialysis. Kidney International, 73: 1062-1068, 2008 R.
Schleicher and O.H Wieland Protein Glycation: Measurement and Clinical Relevance. J. Clin. Chem. Clin. Biochem. 27: 577-587, 1989
Williams R. The burden of diabetes in the next millenium. Diabetes Reviews International 1998;7:21-3. King H, Aubert RE, Herman WH. Global burden of diabetes, 1995-2025.
Prevalence, numerical estimates, and projections. Diabetes Care 1998;21:1414-31.
American Diabetes Association. Report of the expert committee on the diagnosis and classification of diabetes mellitus. Diabetes Care 1997;20:1183-201.
Gale E. New diagnostic criteria for diabetes mellitus. A guide for the perplexed. CPD Bulletin Clin Biochem 1999;1:36-8.
Gomez-Perez FJ, Aguilar-Salinas CA, Lopez-Alvarenga JC, Perez-Jauregui J, Guillen-Pineda LE, Rull JA. Lack of agreement between the World Health Organization category of impaired glucose tolerance and the American Diabetes Association category of impaired fasting glucose. Diabetes Care 1998;21:1866-8.